METRONOME MUSIC MUSEUM PROJECT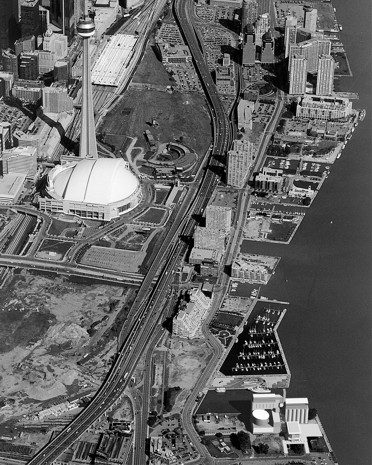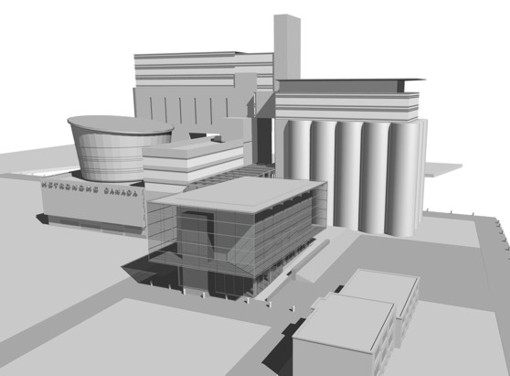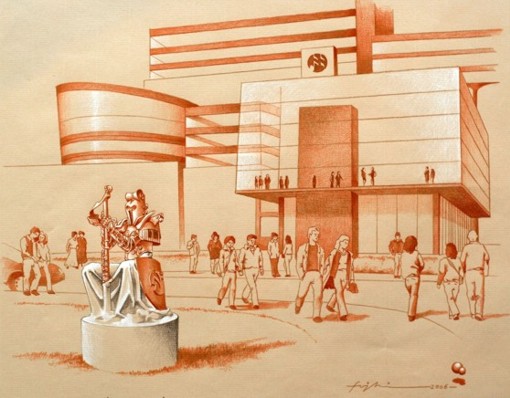 Visit Metronome Canada Music Museum website at:

MP3PRELUDE

MERTRONOME CANADA
By becoming a member of the Metronome Canada Creative Team in 2003, a new chapter has opened in Istvan Fujkin's career. He contributed with his artistic talent to the designs of the future Metronome Canada, a one-of-a-kind "music city" featuring a National Music Education Centre and Museum, a cultural benchmark for Canadian music and an international attraction representing Canada and its contributions to the world of music.
As a Metronome Canada Creative Team member, Istvan Fujkin took charge of various designs for the Metronome Canada project. These include the inception and design of a Serendipity Music Sculpture Garden with a Musicland Playground. Music-themed sculpture entitled "Argus" is considered to be one of Metronome Canada's symbols, and it will be placed at the front entrance of the main building. The sculpture is designed to be 2.5 m/ 8.5 ft. in height from base to top with a white marble lower part and bronze music armour. Music Totem Pole and the interior design of the "Rhapsody" Rooftop Restaurant and Bar.

"Mr. Fujkin has brought to life many unique design concepts and themes of a project dedicated to celebrating Canada and its contributions to the world of music. He is a profound visionary whose creations will evoke awe and wonder from all who visit METRONOME."
John Harris
President of Metronome Canada

"Argus" and the Serendipity Sculpture Garden
Argus is part of the sculpture park, and it is situated at the entrance of the museum as its guardian. The creations of the sculpture park and the surroundings together form a unitary 'musical' composition. Within this composition, some of the sculptures have practical functions as well, such as the drinking fountain and the throne.

"Rhapsody" Rooftop Restaurant and Bar
The uniqueness of the restaurant and bar is embedded in the design and placement of every single interior component which reflects the metamorphic reality of musical instruments. Every object, like in the case of the sculpture park, is part of a single composition..

Music totem Pole
The "Music Totem Pole" will stand at the very centre of the Metronome Canada Music Museum. The symbols of the three-storey high traditional totem pole (10.5 m/35 ft.) combine past, present and future through the use of three distinctive materials, rock, wood, and chrome steel. Various music bird creations hanging down from the upper floors will watch over the totem pole.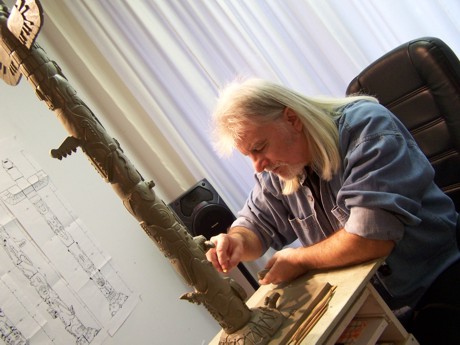 "Over the big water....different continent, different world, yet I feel a comforting embrace of being at home. New creations are born, and I seek places where the can come to life. "Metronome" greets me only through advertisement on TV... I am elated because I could not even imagine a better venue to introduce my creations and myself. I investigate.....It comes to light that the museum is only in planning stages, not yet build. No matter, it may even be better this way. I am knocking.... more than once, before the door opens slightly, but as soon as it is barely ajar, it then opens widely. We find each other.... The challenge to my creative soul bigger than everything thus far, and more complex; this is what I always wished for..... And now it is on the palm of my hand...... I carried visions and real plans. like mosaic pieces, for many years, across countries, nurturing them within myself. Now they are born, in new dreams, and in rebirth of missing mosaic bits, the "picture" is fully completed.
I am holding it on the palm of my hand, like a weary bird resting there, I nourish it with trusting patience so it can soar above the clouds when the time comes, and it wishes to fly."